As I started looking for a metaphor that could bring together the topics covered on curt-rice.com, balance quickly emerged as a candidate. It's especially salient in my work on gender equality, where in some contexts, I argue that we should actually be focused on gender balance. With that in mind, I started wondering whether balance could be an apt metaphor for my other interests.
I write about open access because our approach to communicating research results within the scientific community is faltering, like a spinning top that has lost its mojo; we have serious problems with peer review, impact factors, retraction rates, and the use of bibliometrics as a foundation for policy.
To stay in balance, you have to keep moving.
I also believe that universities are frequently out of kilter in their practice of leadership; we rarely appreciate how good leadership can offer improved conditions for education and research. And when we think about those who are building careers at universities, the notion of balance pops up again. Early-career academics meet a skewed system in which many face a seemingly unending string of short-term, unpredictable contracts. When a permanent job finally is landed, the expectations are often so unrealistic that it challenges a healthy implementation of what has come to be labeled work-life balance.
Equilibrium
One problem, though, with using balance as a metaphor is that my work promotes change, while balance can convey a picture of immobility. For a physicist, balance is about equilibrium. It's about equally strong forces pulling in opposite directions; the pull of the force of gravity downward, for example, is countered by the push of the normal force of the floor upward.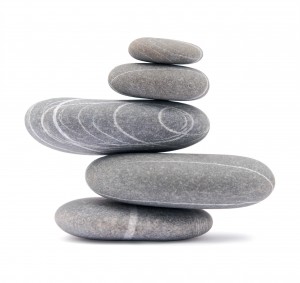 Small movements, from this perspective, might contribute stability along the quest for balance; just watch Michael Grab as he cooks up some of his gravity glue. Rocks stacked in equilibrium are beautiful, to be sure. But as a metaphor for this blog, a vision of heavy, lifeless stones pushing down on one another so firmly that all movement stops is definitely not the image I want!
Fortunately, there's another twist on balance that does involve motion.
Motion
While competing forces are easy to see in all the areas I focus on, they never perfectly cancel each other out in a dynamic workplace. Some force is constantly drawing us away from equilibrium.
Think about riding a unicycle; balancing isn't about being still, it's about pedaling. Stop moving and you'll lose your balance and tumble. Think about spinning a ball on the tip of your finger. What does it take to keep it there? Motion.
That's the inspiration I find in the metaphor of balance: keep pedaling, change directions, move! That's how universities can get better. If we stand still, we're going to fall.
I hope you'll help me develop this blog into a place for conversations about balance and for creating visions about the moves we should make to get there.
No Comments
[fbcomments width="456" count="on" num="3" countmsg="comments"]
Republish
I encourage you to republish this article online and in print, under the following conditions.
You have to credit the author.
If you're republishing online, you must use our page view counter and link to its appearance here (included in the bottom of the HTML code), and include links from the story. In short, this means you should grab the html code below the post and use all of it.
Unless otherwise noted, all my pieces here have a Creative Commons Attribution licence -- CC BY 4.0 -- and you must follow the (extremely minimal) conditions of that license.
Keeping all this in mind, please take this work and spread it wherever it suits you to do so!