The Dutch women's magazine Lof recently had a special issue about women in higher education. One of the articles addresses myths about women and their careers, and I am one of seven people interviewed for that article.
The discussion in the Netherlands looks in some ways like the discussion elsewhere. But their problems are worse. Looking in from the outside, we often think we see a liberal country, but in fact, it's socially quite conservative.
When it comes to the percentage of women in full professorships, the Netherlands is at the bottom of the European heap; Malta and Cyprus are the only countries with even fewer women in academia.
The challenges facing the Netherlands aren't found in universities alone, though. The percentage of women in part time work is among the highest in Europe.
This article, Ambitie, ik?, discusses familiar "explanations" for the low numbers of women. Maybe they aren't good enough, presumably not for innate reasons but because they are distracted by domestic duties. Maybe they actually don't want careers the same way men have them, so that they have time for children. In other words, the usual drill.
Certainly it's true that gender equality at home is important for achieving gender equality at work, and in a culture where so many women do work part time, it's not surprising that many young women will be attracted to that option.
But the problem, in short, is that women who do want to advance and who are up to the task, still meet obstacles that their male colleagues don't.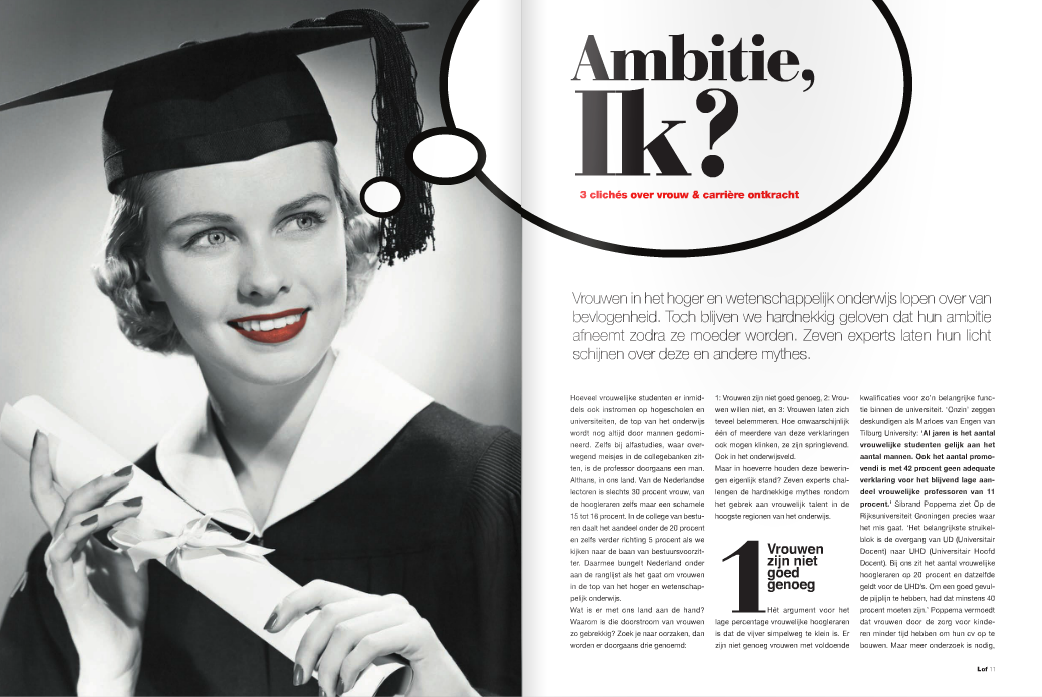 Click on the picture for access to the full article. Original title: Ambitie, ik? 3 clichés over vrouw & carrière ontkracht. In: Lof: voor vrouwen met ambities.
No Comments
[fbcomments width="456" count="on" num="3" countmsg="comments"]
Republish
I encourage you to republish this article online and in print, under the following conditions.
You have to credit the author.
If you're republishing online, you must use our page view counter and link to its appearance here (included in the bottom of the HTML code), and include links from the story. In short, this means you should grab the html code below the post and use all of it.
Unless otherwise noted, all my pieces here have a Creative Commons Attribution licence -- CC BY 4.0 -- and you must follow the (extremely minimal) conditions of that license.
Keeping all this in mind, please take this work and spread it wherever it suits you to do so!