Norway's Statistisk sentralbyrå, or Statistics Norway in English, has a website full of fascinating numbers about life in Norway. On International Women's Day, we find the infographic below, reporting some key statistics about gender equality in Norway, anno 2014.
25% of men and 31.6% of women have some post-secondary education.
82,9% of men and 76.8% of women have paid work.
13.7% of men and 34.5% of women work parttime.
Men earn on average 470,500 Norwegian crowns per year ($78,677, €56,724) while women earn 313,000 ($52,340, €37,736).
70.7% of the employees in the public sector are women while only 36.5% of employees in the private sector are women.
35.2% of leadership positions are filled by women.
38.2% of those elected to regional political office are women.
The last row in the infographic shows one particularly interesting statistic, namely that 68.1% of men take out their full allocation of parental leave. Without going into too many details, the Norwegian system for staying home with a new infant awards about 52 weeks of paid leave to a couple to divide as they see fit. However, 10 of these weeks cannot be transferred to the mother, but instead must be used by the father or lost.
Gender equality has come far in Norway, but as you can see here, there's still room for improvement.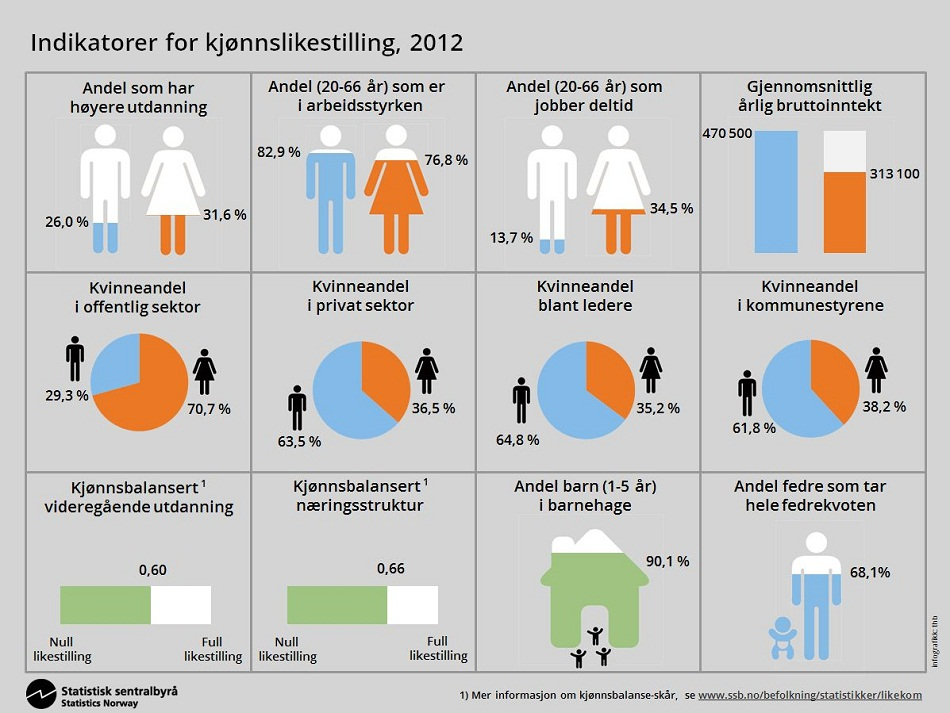 Republish
I encourage you to republish this article online and in print, under the following conditions.
You have to credit the author.
If you're republishing online, you must use our page view counter and link to its appearance here (included in the bottom of the HTML code), and include links from the story. In short, this means you should grab the html code below the post and use all of it.
Unless otherwise noted, all my pieces here have a Creative Commons Attribution licence -- CC BY 4.0 -- and you must follow the (extremely minimal) conditions of that license.
Keeping all this in mind, please take this work and spread it wherever it suits you to do so!