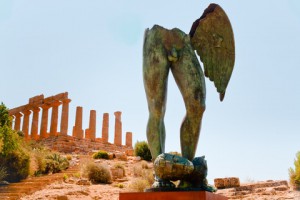 In Greek mythology, Icarus fatally disregards the advice of his father, soaring too high on his wings of wax and feathers and coming too close to the sun in his attempt to escape the island of Crete. The wax melts, the feathers float away, and Icarus plunges into the sea where he drowns.
The metaphorical value of this story, however, is not limited to Daedalus' best known admonition to his son. There is a second warning that also can give us insight. In fact, both are fitting for a process taking place here in North Norway today.
A high flying merger
Two institutions — the University of Tromsø and Finnmark University College — have decided to merge into a single new university. To achieve this fusion, the Board of Directors of each institution had to approve a proposal advanced by their rectors (presidents).
Several board members were hesitant; the rectors' skills of persuasion were challenged. They offered a vision of a new north built with the power that only unity can provide. With each new board meeting, the rhetoric, like Icarus, flew higher and higher.
Mayors, ministers and money were drawn into the picture. Apparitions of new programs, new students, and new jobs were seen.
It wasn't long until the wax would begin to melt. When the time came for a vote at the university, all the representatives for the employees voted against the rector. Be that as it may, they're only four of eleven votes, so the measure passed.
The conversation started coming down from its lofty heights almost immediately — and not a moment too soon if the wings were to keep working. And the descent continues: expectations are moderated and lowered. Questions about structures, timetables, and financing have opened up again.
This is where the second part of the story of Icarus comes into play.
Don't get your feathers wet
The wings that Icarus' father had made could be damaged in two ways. Melting wax and the concomitant scattering of the feathers was only one of the dangers.
Daedalus also warned his son not to fly too low. Getting too close to the water might feel safe, but it could make the feathers wet. They would get heavy and the wings would become impossible to flap. This, too, could lead him to drown.
To avoid flying too low during our merger, we should articulate clear expectations — and not only safe ones.
Expectations
What are the results we can hope for? There must be some that we can see soon. We should find disconcerting the casual claims of our colleagues that the fusion won't change their daily lives.
We have to expect more from the new university. We have to expect that this merger will somehow enable us to better deliver on our most fundamental promises to society. On August 1st, 2014, a year will have passed since the institutions merged. At that point, something — anything! — must be better as a result of the merger.
Maybe we'll have some new educational offering that wouldn't have been possible otherwise. Maybe we'll have a better way of delivering courses to the people in our region. Maybe we'll find some new interdisciplinary research area. Maybe we'll even become pioneers in running a multi-campus institution.
There are many other candidates for areas in which we can be better one year after the merger. Find one you care about, and make it happen. Personally, I don't know what project I'll give my attention to, but I fear that if I don't find something, I'll be complicit.
The majorities of the two boards believe that the merger will see two good institutions become even better. That's their answer to why.
How we can do this is the focus of our work now. If you're part of either organization — especially if you're in a leadership position — it's in your hands. And when you realize it's there, I have only one piece of advice for you: Don't fly too low.
Epilogue
I revisited the story of Icarus recently, stimulated by a browse through Seth Godin's book The Icarus Deception. The second of Daedalus' warnings is too often forgotten; we're deceived into thinking the story of Icarus is a story only of hubris. It's also a story of meekness or timidity. Or, as Godin puts it, It's far more dangerous to fly too low than too high, because it feels safe to fly low. Because of Seth Godin's book, this topic has received many interpretations lately; good examples can be seen at the TED blog, Economic Times, HuffPoBooks, FastCompany, Tom Catalini's blog, IamBanksy, BrandChannel, (an outlier at) Nurturing Creativity, to name just a few.
Republish
I encourage you to republish this article online and in print, under the following conditions.
You have to credit the author.
If you're republishing online, you must use our page view counter and link to its appearance here (included in the bottom of the HTML code), and include links from the story. In short, this means you should grab the html code below the post and use all of it.
Unless otherwise noted, all my pieces here have a Creative Commons Attribution licence -- CC BY 4.0 -- and you must follow the (extremely minimal) conditions of that license.
Keeping all this in mind, please take this work and spread it wherever it suits you to do so!