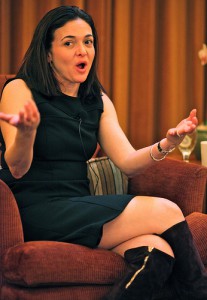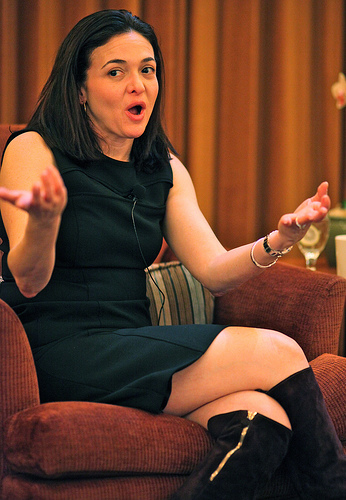 If you're thinking of investing in Facebook, keep this in mind: Mark Zuckerberg doesn't trust his COO. And his lack of trust is going to cost you money.
Facebook's Chief Operating Officer, Sheryl Sandberg, has become one of the clearest and most articulate voices on corporate gender diversity. In a popular TED talk, Why we have too few women leaders, she offers women three steps they should take for career advancement. At the World Economic Forum in Davos, she talks about what corporations must do, too.
The context that she eloquently articulates is the lack of women at the top of organizations. There are more and more at the bottom and more in the middle. But for the last 10 years in the U.S., Sandberg notes, the numbers of women in C-level positions (CEO, etc.) have been stagnant or declining.
Yet her facts, arguments, and eloquence, haven't reached Sandberg's closest colleague. It seems that even a woman at the top can't convince the man she works side-by-side with.
How many women has Mark Zuckerberg put on Facebook's board?
There are none. This foolhardy approach to building appropriate expertise puts women in the good company of Afro-Americans, Hispanics, and pretty much every conceivable diversity-relevant group: Facebook is run by white men.
This shows both a lack of confidence in Sandberg and an apparent disinterest in the relevant research. As if that weren't enough, Zuckerberg's board is arguably sub-optimal for the company.
Catalyst compares Fortune 500 companies having no women on their boards to those having at least three. For Return on Equity, the companies with at least three women on the board outperform those with none by 46%; for Return on Invested Capital, it's 60%, and for Return on Sales, those companies exceed the others by 84%.
These are hard numbers to ignore. But Sheryl Sandberg's boss has succeeded in doing so.
This blog is full of arguments for why it's right to hire women and for why it's smart, too. Among other gender equality entries, the four Woman matter reports are presented in a recent series. There are many compelling arguments. Have a look, Mark.
Facebook's social mission, as Bloomberg recently reported, is to "make the world more open and connected" and to "give everyone a voice."
The board Mark Zuckerberg has assembled makes a farce of this vision.
Sheryl Sandberg now has the opportunity to call him on it.
As Facebook becomes a public company, its responsibilities increase. One of those responsibilities is economic. And we know there's a relationship between diversity in the leadership of a company and its economic performance.
Another responsibility is social; it's important to identify women who are both the best person for a job and those who can also be good role models.
Dear Sheryl Sandberg: You have shown remarkable leadership on the issues of gender equality and the importance of gender diversity in corporations. Today you have another opportunity. Tell Mark Zuckerberg to diversify Facebook's board. Tell him that his choice is simple: Commit to the business-savvy decision of adding women to the board, or lose the business-savvy woman who has made Facebook worth billions. 
Photo: jurvetson
Republish
I encourage you to republish this article online and in print, under the following conditions.
You have to credit the author.
If you're republishing online, you must use our page view counter and link to its appearance here (included in the bottom of the HTML code), and include links from the story. In short, this means you should grab the html code below the post and use all of it.
Unless otherwise noted, all my pieces here have a Creative Commons Attribution licence -- CC BY 4.0 -- and you must follow the (extremely minimal) conditions of that license.
Keeping all this in mind, please take this work and spread it wherever it suits you to do so!